A Tale of Two Cities: The Nexus Pipeline
Jon Strong has lived in Medina county since 1994, back when his backyard was just meadow grass.
His house sits at the end of a long driveway, tucked away behind a wall of foliage. In his backyard sits a path that leads away from civilization, where the dull hum of car engines quickly turn into the shrill sounds of birds flying through the air..
Despite it being a typical, overcast fall day, Strong is clad in faded blue jeans and a green polo t-shirt.
About 250 feet down the path, there is a fork in the road. Down one end of the fork is a winding path of trees, a way to loop around back to the house. But down the other path is an open field, a place that Strong used to call his "special spot." Before, Strong could sit there and meditate, or just enjoy the peacefulness of nature.
That was before Nexus came.
Nexus is a 255-mile pipeline that runs through Ohio, Michigan and Ontario, Canada that will transport natural gas through the regions. (It just received approval to start moving gas along the pipeline.)
Strong, like numerous other Northeast Ohio homeowners, was personally affected by the Nexus pipeline.
In 2014, Nexus began to send letters to residents of the cities along its proposed route, informing residents the pipeline was coming. Strong was one of those residents.
In Medina he was part of the effort that tried to reroute the pipeline away from homes and schools and he headed up CORN, the Coalition to Reroute Nexus.
"Our approach was: Let's re-engineer the route, take it away from people because that's the priority in this," Strong said. "It should be away from the population centers. We understand we need fossil fuels, let's do it the smart way. We have a choice in Ohio, we have a lot of open land."
Strong tried to move the route 1,500 feet away from every home in the area. It would have added an additional 12 miles to the pipeline.
Medina was not the only city that opposed where Nexus wanted to put its pipeline.
For City of Green Councilman Stephen Dyer, the pipeline became a personal problem.
"My son has played on baseball fields that are now in the blast zone," Dyer said. "I'm not so excited about him playing baseball anymore."
The "blast radius" of the Nexus pipeline is 940 feet from all directions.
Dyer said Green's proposed, alternative plan for the pipeline suggested that Nexus move it 20 miles south to less populated areas surrounded by fields.
"That way if it explodes, it makes popcorn," Dyer said with a laugh. "I don't think anyone in Green was against gas extraction. I don't think this is a tree hugger thing. Why don't you just move it 20 miles south and you don't have to worry about killing us?"
The City of Green and Medina both were successful in  rerouting pieces of the pipeline away from backyards.
The pipeline company made 239 route changes over time, totaling about 231 miles, according to Nexus' website.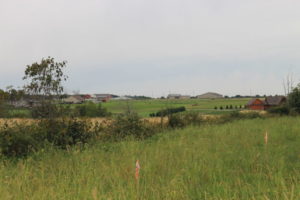 "For more than four years, we worked with landowners, key stakeholders, and state and federal agencies to develop a balanced approach to designing, constructing and operating the pipeline," said Adam Parker, spokesman for Nexus. "Our dedication to thoughtful and extensive planning is further evidenced by the fact that we exceeded industry expectations and reach mutual agreements with more than 99% of landowners."
Nexus reviewed the city of Green's alternate proposal, but Parker said FERC approved the pipeline company's route and they chose to go with what they had.
"After more than four years of public and regulatory review, FERC found the NEXUS route to be acceptable and that the alternative appeared to simply shift impacts from one area, group of landowners, and set of resources to another area, group of landowners, and set of resources," Parker said.
Green won its first court case against Nexus and had four other cases pending in court, but those were dropped when city administration agreed to a payment of TK from the pipeline company. Nexus needed easements on city property, which are [insert definition here]
"We sued on a bunch of different grounds," Dyer said. "We actually won a case initially that froze their operations in Green. We were all on the same page, but then in February the city administration cut a deal with Nexus."
That deal was a $7.5 million payout to the city from Nexus. Green's administration accepted the money with a 4 to 3 vote in city council.
"For three years, the city administration had been telling the public that this was a danger, this is going to ruin our city," Dyer said. "They hired researchers at Cleveland State that wrote a peer-reviewed study about how this is going to cost us $120 million over the course of its lifetime, and now suddenly it's okay."
Dyer was one of the three who voted "no" on the agreement.
Some of Dyer's concern stems from problems with the Rover Pipeline in Pennsylvania, which recently exploded after a mudslide.
"For years we were told that this pipeline is going to pose a threat. But then the city administration brought in an expert who said 'when a pipeline explodes, you can see the fireball. Just run from it.'"
The three- to four- year fight -wound down and the Nexus pipeline recently began pumping natural gas which now runs below Strong's property and near the cities of Medina and Green.
For many of the residents, life has returned to its daily rhythm. But for people like Strong and Dyer, echoes of what could have been still exist.
What if Green hadn't taken the buyout offered by Nexus? What if Medina started its anti-pipeline efforts a little earlier?
Strong's "special place" is now draped with wood from the trees Nexus cut down. Grass is growing where the construction occurred, a symptom of Nexus having to tear out the topsoil that was there before. Wooden stakes poked out over the grass to signify where the pipeline was buried; their red cloths flapped in the cool fall breeze. A mounted camera  sits on a stump. Now, it watches animals on the property. Over the summer, its lens was focused directly on the construction.
On Oct. 2, a Federal Appeals Court blocked a permit for the Mountain Valley Pipeline in West Virginia. While Dyer appreciates the necessity for natural gas — and pipelines are the safest way to transport it — he also recognizes what could have been for the City of Green.
"When you see stuff like what happens in West Virginia when the pipeline gets stopped dead cold because of a federal lawsuit, it pisses you off," Dyer said. "That could have been us."